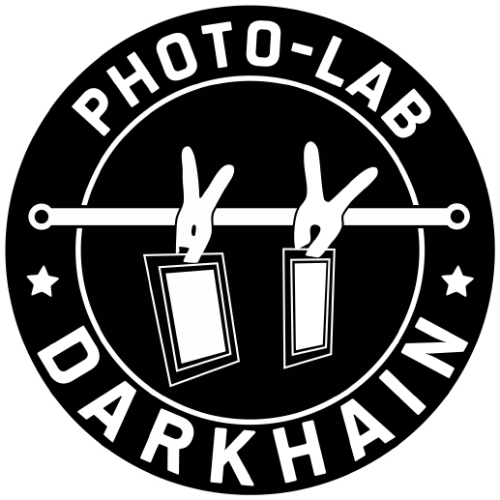 Darkhain is xHains own analogue photolab.
Jascha (@nogod:matrix.org)
We are equipped with two enlargers:
Durst M605 Color (Suitable for 35mm Film up to 6x6cm negatives)
Durst Laborator 138s (Suitable for 6x6 up to 5"x7" negatives)
Photographic processes are currently limited to B&W processes, both negative development and prints.
Negative developments are possible up to medium formats in a daylight-tank.
Please note that some 35mm films are sold as B&W, but require C-41 development (noted on the package), you will not be able to process these in darkhain.
A basic selection of chemistry and papers is provided (as per usual, on donation basis)
Trays allow for up to 30x40cm print sizes.
Unless you need the larger format, using the Durst M605 is highly recommended.
Make sure the three filter wheels on top read "Zero"
Slider on the right side of the housing to the format you need 35 vs 66.
Reattach the gaffa-tape, because the slit for that slider is an impressive lightleak.
Put your negative in the carrier (pulling on the chrome tab kicks it out a little, making it easier to grab)
Yes, there is a crack in the glass, please do not try to replace it, that's non-newton-glass which is somewhat harder to source.
Make sure the enlarger is far enough from the wall so the zoom-crank doesn't hit it.
The negative carrier allows to mask the negative to prevent light spilling around the edges.
We are still working on fulling setting it up, so for the time being, it is not functional.
Only ever open up the packages in redlight and make sure they are put away before opening the door or turning on white light.
We have different kinds of papers. Fixed contrast, and Multigrade.
Most Papers we have are "PE-Papers" meaning, plastic, and drying flat.
There are also "Baryt" Papers, which are generally more archival and in higher esteeem for gallery-exhibitions, but need a press to dry, otherwise they'll crumple up.
Will read something like "Soft", "Medium" or "Hard" on the package and that's the contrast you get.
We have multigrade papers by Foma. We also have several other brands of paper whose names seem to suggest they are variable. We do have filters that work with the Foma papers, not sure about the others. You can use the colour head to also set the required contrast, using the yellow channel for reducing it, and the magenta channel for increasing it. The amount will depend on the paper being used and how it responds, so check its user manual.
There is a black box with mounted filters that, in combination with the multigrade papers will produce up to seven different contrast gradients from "Extra Soft" to "Super-Hard".
Please note that using these, you will also need to adjust your exposure times accordingly.